Celebrations of 2017 World Social Work Day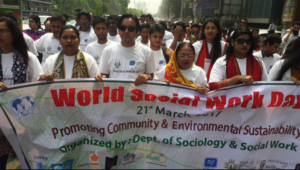 World Social Work Day 2017 has been celebrated and used as an opportunity to 'promote community and environmental sustainability'. The poster for the event has been translated by social workers into 43 languages and displayed in communities, workplaces, schools, social services, universities and on banners in street demonstrations, highlighting the contributions of social work and promoting public discussion/action on sustainability. In many countries the theme message was presented to governments and the United Nations.
"The global profession is getting stronger each year and in 2017 we witnessed the largest mass movement of a united social work profession taking action with an essential message on sustainability", said IFSW Secretary-General Rory Truell. "IFSW thanks and congratulates all social workers who took part in these events".
Below are videos, photos and links to the some of the activities that took place on World Social Work Day. If you would like to add information to this record, please send your photos/video or links to global@ifsw.org
WSWD Message by IFSW President Ruth Stark
WSWD Message by IFSW Secretary-General Rory Truell
Link to written WSWD message published in the Guardian
WSWD Message from the IFSW European Regional Executive
WSWD Message by IFSW President Asia-Pacific Region Mariko Kimura
WSWD Message by IFSW President LAC Region Silvana Martinez 
and Vice-President LAC RegionLarry Alicea Rodríguez
ACTIVIDADES DE LA REGIÓN ALC POR EL DÍA MUNDIAL DE TRABAJO SOCIAL 2017
WSWD activities by country
Angola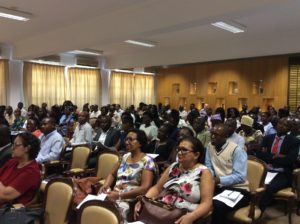 Argentina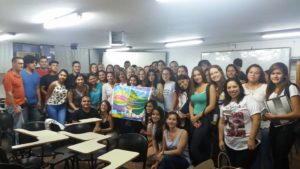 Australia
Austria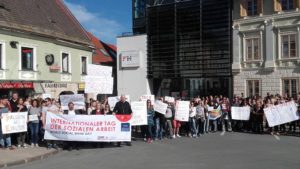 Azerbaijan
Press release by the Azerbaijan Social Work Public Union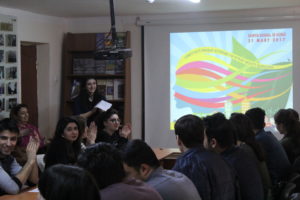 Bangladesh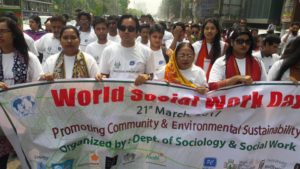 Belarus
Vitebsk Clubhouse "Wings of hope" for people recovering from mental health difficulties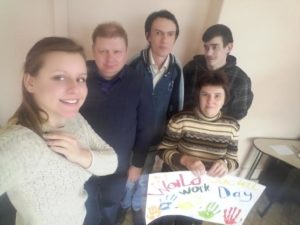 Brazil
WSWD events organised by CFESS
Cabo Verde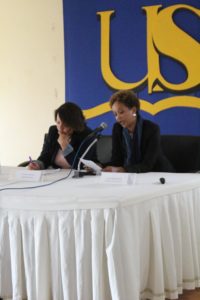 China
Link to WSWD activities in China
Costa Rica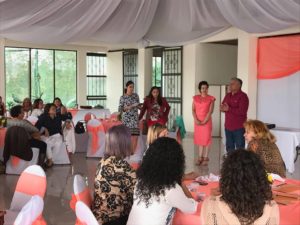 El Salvador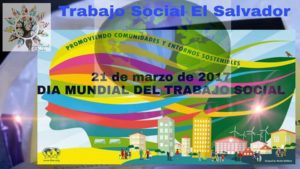 France
As part of World Social Work Day, the Secretary of State for the Ministry of Social Affairs and Health, in charge of Disability and the Fight Against Exclusion, provided an update on the main Implementation of the action plan for social work and announced two new measures for the upgrading of social work.
Greece
WSWD celebrated along with the 60th anniversary of the Greek Professional Association of Social Work (SKLE)
Grenada
World Social Work Day organized be the Grenada Association of Professional Social Workers.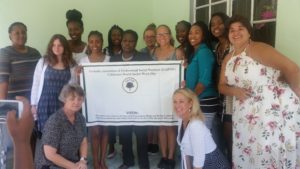 Hungary
India
WSWD at Gulbarga University on Facebook
Link to WSWD report from India Network of Professional Social Workers' Associations (INPSWA)
Link to WSWD report from National Institute of Mental Health and Neurosciences (NIMHANS) in Bangalore
Iran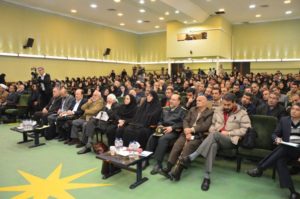 Link to World Social Work Day activities in Iran
Ireland
Israel 
In Israel, WSWD was celebrated as a special event at the Knesset (Israel Parliament): Social workers participated in meeting of several House committees dealing with various welfare-related issues, and then at a general meeting hosted by the Minister of Labour and Welfare and Knesset members. Several prizes for excellence in social work were distributed at this event.
Italy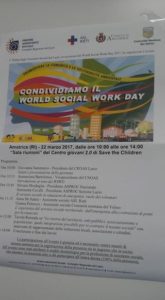 Japan
Kosovo
WSWD Events at the University Of Prishtina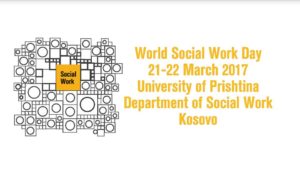 Lithuania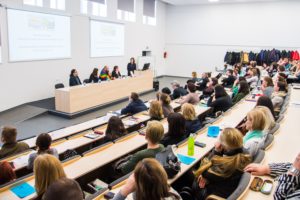 Malaysia
Link to WSWD report from Malaysia
Morocco

Link to WSWD report from Morocco
Nepal
More photos and information on Facebook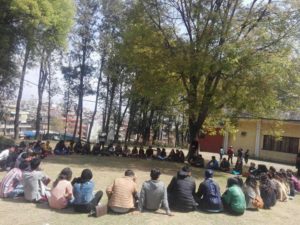 Nigeria
Events organised be the Nigerian Association of Social Workers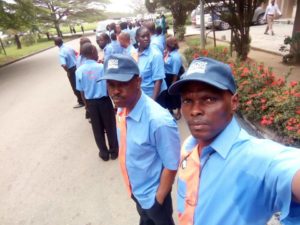 Pakistan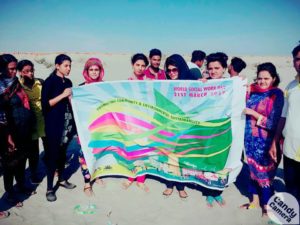 Palestine
Link to report on WSWD in Palestine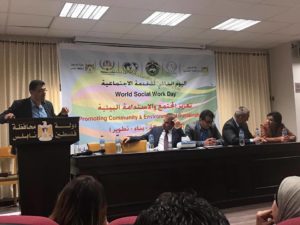 Perú
Philippines 
WSWD awards ceremony in the Philippines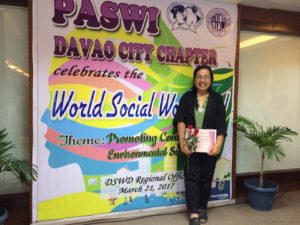 Poland
Portugal
WSWD event at Coimbra Portugal on Facebook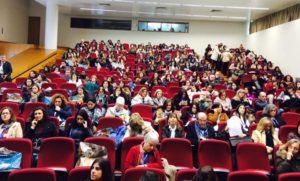 Romania
Link to report on WSWD events in Romania
Scotland
Link to a video on a community garden, submitted to celebrate WSWD
Spain
WSWD celebrations of the Spanish General Council of Social Work (GCSW) and professional organizations of social workers
WSWD Event recorded on Facebook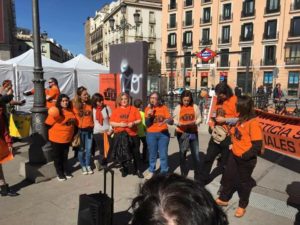 WSWD Event from Colegio Profesional de Trabajadores Sociales de Aragon
In Extremadura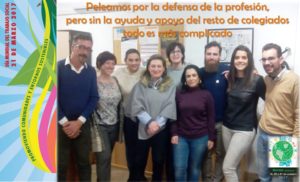 Further celebrations in Spain:
WSWD – COTS de Almería
WSWD – COTS de Araba
WSWD – COTS Aragón
WSWD – COTS de Asturias
WSWD – COTS Bizkaia
WSWD – COTS Burgos
WSWD – CPTS Cádiz
WSWD – COTS Cantabria y UNED Cantabria
WSWD – COTS de Castellón
WSWD – COTS de Las Palmas
WSWD – COTS de Málaga
WSWD – COTS de Salamanca y Zamora – USAL
WSWD – COTS de Soria
WSWD – COTS Valladolid y Segovia
WSWD – Universidad Complutense de Madrid
Switzerland
Social Work representatives speaking at the United Nations in Geneva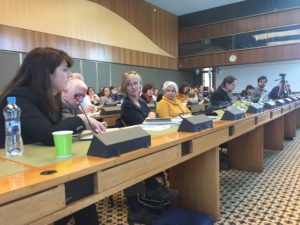 Thailand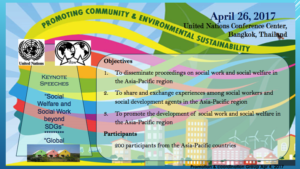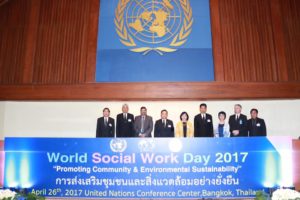 Turkey
United Kingdom
Anglia University
Anglia Ruskin University (Chelmsford, UK) we celebrated with a showing of Ken Loach's brilliant film I, Daniel Blake and a talk led by Guy Shennan (Chair, British Association of Social Workers) about their Boot Out Austerity campaign see: http://www.boot-out-austerity.co.uk/.
We had a really impassioned discussion among social workers, students and service users about how we could support the BASW campaign.
USA
Social Workers in one chapter celebrated with a cake made from the design of the WSWD poster.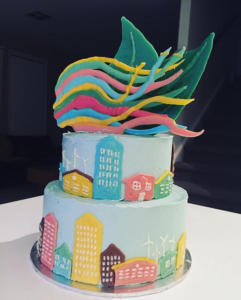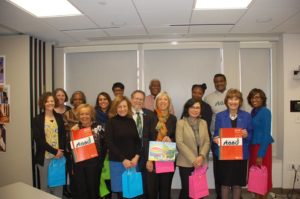 Yemen 
The President of the University of Aden, and Major General Shalal, the commander of the Aden police, Dr. Alawi, the Dean of the Faculty of Arts, Dr. Mohamed Haitham, the head of the department, the directors of the directorates, institutions and international and local organizations, and the employees of the profession. Social services, faculty members, students of the department and the college. The ceremony included honorary activities, a charity dish, exhibitions and musical passages. This celebration is an annual tradition in March of each year, which was determined by the International Federation of Social Workers.