IFSW Europe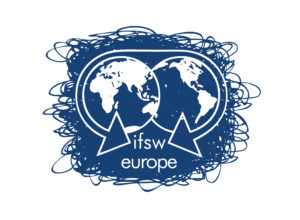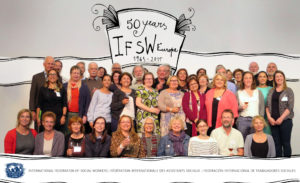 50 Years of IFSW Europe (1965-2015)‏
In the year of 2015  IFSW Europe celebrated 50 years!
Please see the photo from the celebration of the 50 year anniversary of IFSW Europe, that took place at the European Delegates Meeting in September 2015 in Edinburgh.
Thanks to IFSW Europe's designer Maria Mónica for the design of the photo.
IFSW Europe is a member of the Social Platform, the Platform of European Social NGO's
SOCIAL WORK IS – DVD – IFSW Europe e.V. from Joana Domingues on Vimeo.
The DVD highlights the contribution that social workers make to the well-being of individuals and groups who require support and assistance to overcome the very difficult situations that many citizens face at some time in their life.
A Song for Social Work
The DVD developed by IFSW Europe which is built around the song "Social Work is.." written by executive committee member Cristina Martins is being warmly received across Europe. The lyrics of the song are available by clicking here.
Charter of Rights for Social Workers
The Charter of Rights summarises the support that social workers require to practise safely and secure the best possible outcomes for those using their services.
Download the poster in full size
---
IFSW Europe Blog
You can find out more about the activities of IFSW Europe and our member organisations from the IFSW Europe blog.
Facebook
You can also follow us on facebook page "IFSW Europe"