IFSW Europe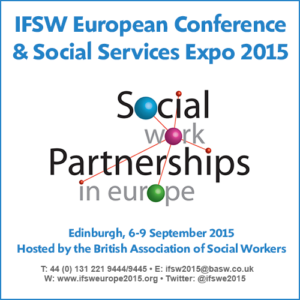 IFSW Europe e.V., International Federation of Social Workers European Region, has the pleasure of inviting social workers to participate in the IFSW European Conference & Social Services Expo 2015, which will take place in Edinburgh, Scotland from 6 to 9 September 2015.
The Conference will bring together social workers from the fields of intervention and professional practice, policy making and research, and provide an opportunity for social workers to share their experiences, common problems and strategies at the European level.
The British Association of Social Workers (BASW) is hosting the largest social services event in Europe, held this year within the UK. We will be celebrating the achievements of social work partnerships in Europe and don't want you to miss out.
The IFSW Europe Executive Committee is excited by the interest expressed towards the Conference across Europe, as well as the high quality of abstracts submitted for the conference workshops.
Looking forward to meet Colleagues in Edinburgh and sharing new experiences across Europe!
IFSW Europe is a member of the Social Platform, the Platform of European Social NGO's
SOCIAL WORK IS – DVD – IFSW Europe e.V. from Joana Domingues on Vimeo.
The DVD highlights the contribution that social workers make to the well-being of individuals and groups who require support and assistance to overcome the very difficult situations that many citizens face at some time in their life.
A Song for Social Work
The DVD developed by IFSW Europe which is built around the song "Social Work is.." written by executive committee member Cristina Martins is being warmly received across Europe. The lyrics of the song are available by clicking here.
Charter of Rights for Social Workers
The Charter of Rights summarises the support that social workers require to practise safely and secure the best possible outcomes for those using their services.
Download the poster in full size
---
IFSW Europe Blog
You can find out more about the activities of IFSW Europe and our member organisations from the IFSW Europe blog.
Facebook
You can also follow us on facebook page "IFSW Europe"