News and activities
6TH ASEAN SOCIAL WORK CONSORTIUM (ASWC) CONFERENCE HELD IN INDONESIA
Date: 25-29 July 2017
Theme: Growing Cooperation, Solidarity and Quality of Social Services in ASEAN
—
WORLD SOCIAL WORK DAY 2018 GREETINGS FROM NAGASAKI
—
JFSW STATEMENT ON THE ROHINGYA PEOPLE

The Japanese Federation of Social Workers issued the following statement regarding  violations against the Rohingya people.
JFSW Statement on the Rohingya People
—
IFSW-AP LOGO CONTEST (extended)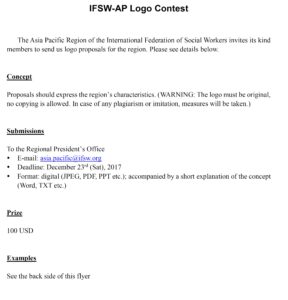 Submissions to: asia.pacific@ifsw.org
Deadline: December 23rd (Sat), 2017
—
WORLD SOCIAL WORK DAY 2017 IN CHINA
—
WORLD SOCIAL WORK DAY 2017 AT THE BANGKOK UN REGIONAL OFFICE
This World Social Work Day Event was very well attended with about 200 people from local social work associations, NGOs, as well as social work educators, social work students, and social service government officials from the Ministry of Social Development and Human Security. The event was strongly supported by the Thai government and initialized by one of the social work officials, who was a social worker and attended the UN event in New York last year expressing the intention to hold it next year too.
On the first day, the opening speech was given by Dr. Decha Sungkawan, Professor of Thammasat University (also Secretary of the Asian and Pacific Association for Social Work Education). The opening ceremony was presided by the Minister of the Social Development and Human Security and two keynote speeches followed. The first was given on social welfare and social work beyond the SDG's by Dr. Nagesh Kumar, the UN ESCAP Representative in Thailand. The second speech was given by IFSW-AP President Dr. Mariko Kimura on the Global Agenda and the roles of social work practice and social work education (see the full transcript below).
Next, a panel discussion took place with representatives of ICSW, IASSW (APASWE President Dr. Fentiny Nugroho, specifically), and the Thailand Association of Social Work and Social Welfare Education. In the afternoon, there was another panel discussion on the role of social workers with participation from the social workers' network in Thailand on the Global Agenda theme Promoting Community and environment Sustainability. The second day event was a symposium by local social workers working at NGOs.
—
WSWD2017 IN INDIA
—
SOCIAL SCIENCE DEPARTMENT-BETHLEHEM UNIVERSITY
SCIENTIFIC MEETING ON: SPECIAL POLICIES TO PROTECT CHILDREN

—
WSWD2017 CELEBRATIONS IN MALAYSIA
—
MOU between PUSWP Palestine and FO Norway
—
WSWD2017 CELEBRATIONS IN PALESTINE
—
WSWD2017 IN BANGLADESH
—
WSWD2017 IN HONG KONG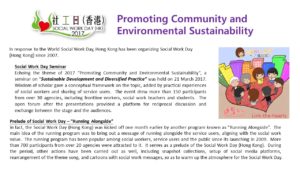 —
WSWD2017 CARD FROM MALAYSIA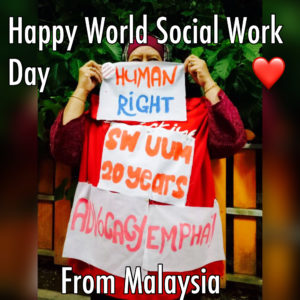 —
WSWD2017 EVENT IN TOKYO
The Japanese Coordinating Body (JCB) for IFSW Membership organized a World Social Work Day symposium on March 20th (Mon), a national holiday in the country (namely Spring Equinox Day). JCB is an umbrella organization for the following four professional associations: the Japanese Association of Social Workers (JASW), the Japanese Association of Certified Social Workers (JACSW), the Japanese Association of Social Workers in Health Services (JASWHS), and the Japanese Association of Psychiatric Social Workers (JAPSW). Since Japan has a National Social Worker Day (celebrated every year in July at the national holiday of the Day of the Sea), this was the first time for major WSWD celebrations in Tokyo.
The opening address was delivered my Ms. Yumiko Hayasaka (President of JASWHS). It was followed by reports from two joint JCB committees, one for international affairs and one on Hansen's disease. The former was presented by Ms. Michiko Hirata of JACSW (also Treasurer of IFSW-AP) and focused on regional workshops co-organized by IFSW-AP and co-sponsored by the Japanese Center for Social Welfare Promotion and National Examination via JCB (Indonesia and the Philippines in FY2015/16, India and Malaysia in FY2016/17; Nepal and Vietnam scheduled for FY2017/18). In the latter report, Mr. Naoto Kita (Standing Director, JAPSW) acknowledged how the social work profession in Japan historically collaborated with segregation and detention policies and explained about current JCB services for Hansen's disease patients. The event was continued by a speech given by Mr. Ken Hongo from the Ministry of Health Labor and Welfare's Social Welfare Bureau about recent developments in national policy, especially the community-based integrated care system. The last session was a panel discussion between the JCB member organizations coordinated by Mr. Masakazu Shirasawa (Representative of the Research Council of Social Care Service Practitioners). The four panelists were JASW President Mr. Tamio Okamoto, JACSW President Mr. Katsuhide Kamakura, JASWHS President Ms. Yumiko Hayasaka, and JAPSW President Ms. Kazue Kashiwagi.
This WSWD celebration also served as an important kickoff event, since JCB will be re-organized this April under a new name, specifically the Japanese Federation of Social Workers (JFSW). This decision by the four practitioners' organizations was influenced by the merger of the three educational organizations in social work (the Japanese Association of Schools of Social Work, the Japanese Association of Schools of Certified Social Worker, and the Japanese Association of Schools of Certified Psychiatric Social Worker) into one, the Japanese Association of Social Work Education (JASWE). The newly renamed JFSW is expected to organize more joint events and engage in more joint projects between its four member organizations in the future.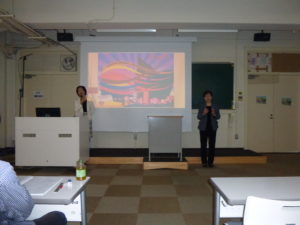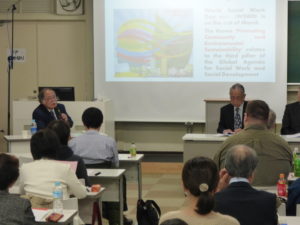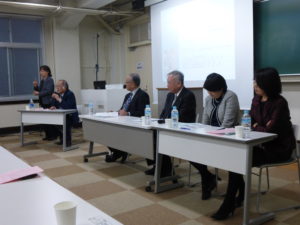 —
GREETINGS FROM JAPAN FOR WSWD2017
—
REPORT FROM THE IRANIAN ASSOCIATION OF SOCIAL WORKERS
Iran Association of Social Workers Report (IASW) Activities for World Social Work Day 2017
—
WORLD SOCIAL WORK DAY 2017 RELATED EVENT:
THE JAPANESE ASSOCIATION FOR THE STUDY OF INTERNATIONAL SOCIAL WORK LAUNCHED
Date: March 11th (Sat), 2017
Venue: Japan Women's University, Tokyo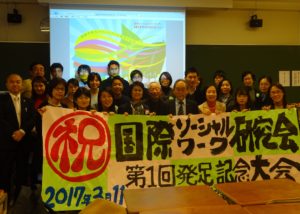 —
REGIONAL PRESIDENT'S MESSAGE FOR WORLD SOCIAL WORK DAY 2017
—
PALESTINIAN UNION OF SOCIAL WORKERS AND PSYCHOLOGISTS GENERAL SECRETARY MEET WITH THE GENERAL UNION OF PALESTINIAN TEACHERS IN RAMALLHA
by Raed Amira, Human Rights Representative, IFSW-AP
Member, Arab Federation of Social Workers
The meeting was attended by General Secretary Mr. Saed Ezreqat and other colleagues in the general secretariat and administration team. Also, it was attended by Dr. Iyad Othman PUSWP General Secretary, Raed Amira general secretariat member, Iyad Ladawda, and Shadi Mnasour.
Ezrqat opened the meeting by welcoming the participants and stated that social workers remain important within the teachers' structure. He highlighted the importance of the role of refusing any division among teachers, social workers or administrators. He confirmed that they will take all the necessary steps in the right time in case they did not receive any feedback regarding their request.
From his side, PUSWP General Secretary Dr. Iyad Othman appreciated the role of the teachers union and their continuous efforts for the benefit of all teachers and for social workers to have the right to improve their carriers, to find special posts, to ensure their rights, and to receive professional allowances like other teachers among their colleagues.
Othman added that the union is looking to find solutions to all remaining issues. He said that the union will stand behind the teachers union in any decision or any suitable step of complaints in case they did not receive good answers from decision makers.
In addition, other specific issues related to social workers were discussed too.
This meeting was part of continuous cooperation and coordination between both parties   to look at and solve problems faced by social workers.
—
COMMISSION PREPARE A LAW CAREER SOCIAL AND PSYCHOLOGICAL SPECIALISTS PALESTINE
by Raed Amira, MH&D, Trainer
Human Rights Representative, IFSW-AP
Member, Arab Federation of Social Workers
The Palestinian Union of Social Workers and Psychologists held a meeting of the committee preparing justifiable to regulate the profession of social and psychological work in Palestine, which was based on the decision of the Secretariat at its first meeting and the judge to form a committee and work directly in the preparation of the rationale for the law in accordance with legal and trade union and professional basis, where the committee formed by the Palestinian law a group of social workers and psychologists in the homeland of the following names:
Dr. Ayad Othman and Dr. Imad Shtayyeh and Dr. Fathi Fulayfel, Raed Amira, Nasser Matar, and Faiz Al Fasfos , Asim Khamis and Bassam Marshood.
It should be noted that the Commission in its meeting has taken the decision to form specialized committees in order to institutionalize professional work presented credentials to the Bar Council and the General Secretariat prior to submission to official bodies.
Together to build a trade union and professional work in Palestine
—
COMING TOGETHER FOR CHILD PROTECTION IN INDIA
International Conference and Social Work Professionals' Congress on 'Social Work Intervention against Drug Abuse among Children'
Date: November 7-8,  2016
Venue: BCM College, Kottayam, Kerala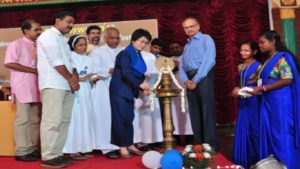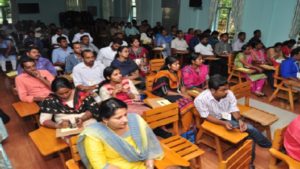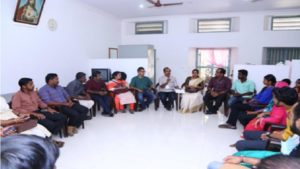 —
VIDEO: 25TH ANNIVERSARY CELEBRATIONS IN FAR EAST RUSSIA
Organized by the Union of Social Workers and Social Pedagogues (USWSP) on the occasion of the 25th year anniversary of the profession in the country (October 6th & 7th, Vladivostok)
—
CHILD PROTECTION RAPID ASSESSMENT REPORT FROM YEMEN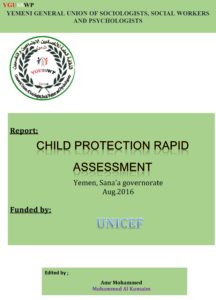 —
NATIONAL SOCIAL WORK DAY 2016 IN AOTEAROA NEW ZEALAND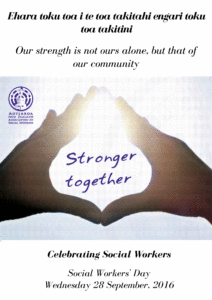 Tena koutou, tena koutou, tena koutou, nga mihi mahana ki a koutou katoa. Warm greetings to you all from Aotearoa New Zealand!
Wednesday 28 September 2016 marks the 12th year that Aotearoa New Zealand has celebrated a National Social Work Day. Across the country social workers will meet in their branches, roopu and workplaces to join together in celebration of the unique and special ways social workers contribute to making a positive difference with the individuals, their families and the communities they work with. The range of activities being undertaken this year, includes a week-long series of webinar professional development activities hosted by the professional body ANZASW.
At this time we also greet our colleagues across the region and around the world as we join together in honour of everything that is similar as well as all the diversity that being a social worker means globally.
Together we celebrate the great profession of social work!
Regards, Rose Henderson
President, Interim Governance Board, ANZASW and Vice President IFSW Asia Pacific
—
GLOBAL AGENDA PROGRESS REPORT FROM THE REGION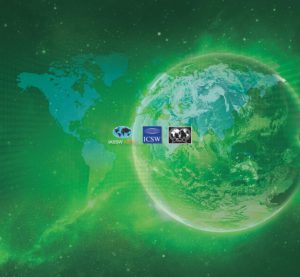 Promoting the Dignity and Worth of People
Global Agenda – 2014 – 2016: Asia-Pacific Region
The attached files include the Asia Pacific chapter in the Global publication and the supporting documents from the workshop held at the Joint Asia Pacific Regional Conference held in Thailand in October 2015. The summary chapter was also informed by the pre-conference workshop on Child Labour and Children of Migrant workers as well as summary documents received separately from Malaysia, India and New Zealand. We are pleased now to make these documents available and trust that you will find them of interest.
Special thanks to Dr Bala Nikku for his assistance in this work, and to all the members who contributed to this rich and diverse resource.
Dr Mariko Kimura, Asia Pacific Regional President
Rose Henderson, Asia Pacific Regional Vice-President
July 2016
Appendix II – Narrative Reports
—
IFSW-AP LOGO CONTEST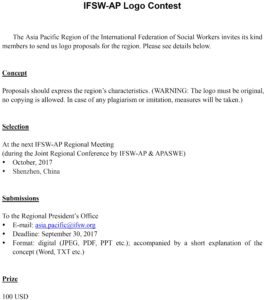 Submissions to: asia.pacific@ifsw.org
Deadline: September 30, 2017
Announcement: at APC24 in Shenzen, China (October 24-27, 2017)
—
REGIONAL MEETING HELD AT SWSD2016
Date & time: June 28th 2016, 16:00-18:00
Venue: COEX Hall E7 (3F), Seoul, Korea
IFSW-AP Regional Meeting Agenda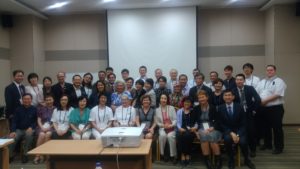 —
REGIONAL president's World Social work day 2016 visit to China  (March 13-17)
Report
by the China Association of Social Workers
—
WORLD SOCIAL WORK DAY 2016 IN IRAN
Report
by the Iran Association of Social Workers
—
WORLD SOCIAL WORK DAY 2016 MESSAGE FROM PALESTINE
—
WORLD SOCIAL WORK DAY 2016 IN INDONESIA
Including a speech by HE Mrs. Khofifah Indar Parawansa, the Minister of Social Affairs of the Republic of Indonesia.
Report
by the Indonesian Association of Social Workers
—
WORLD SOCIAL WORK DAY 2016 IN BANGLADESH
Bangladeshi colleagues observed World Social Work Day 2016 very successfully. Social workers engaged in a rally and a seminar on this year's theme. People for different organizations attended and joined. There was media coverage both in print and electronic nationwide.
—
WORLD SOCIAL WORK DAY 2016  IN MALAYSIA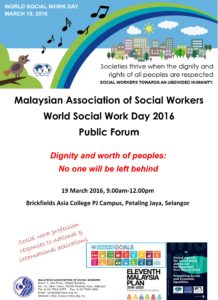 —
REGIONAL PRESIDENT'S MESSAGE FOR WORLD SOCIAL WORK DAY 2016
2016 World Social Work Day Message by Mariko Kimura
—
Annual Report by the IFSW-AP President and Member-at-Large (2015)
—
A LETTER ON THE CRISIS IN YEMEN
by the Yemeni General Union Sociologists, Social Workers and Psychologists (YGUSSWP)
Dear Dr. Mariko Kimura, IFAP President,
As you know Yemen currently has the greatest level of humanitarian needs in the world after the conflict beginning on 26 March 2015 until now which lead over 20 million people 80% of the population in desperate need of humanitarian assistance, Yemenis are struggling to survive as fuel, food and medical supplies are critically low due to the closure of land, sea and air routes. Over 12 million people are going hungry as wheat and other staples are in increasingly short supply. More than 15 million are without access to health care as hospitals shut down due to lack of medical supplies and power cuts.
The Yemeni General Union Sociologists, Social Workers and Psychologists (YGUSSWP) have been deeply affected from this conflict as most of our offices around the country have been damaged or affected due to heavily airstrike bombing, however we still working very hard to support our society and help them to get through this conflict by providing them with psychosocial support.
YGUSSWP established and managing safe friendly spaces for children in Sana'a province in some districts and this project funded by the UNICEF office in Sana'a. This project's aim is to provide psycho-social support to children and raise the community's and the children's awareness of protection issues, and to provide a friendly space and protected environment that enables children to participate in organizing activities, where they could play and adapt knowledge, learn and express themselves , and return back to their normal lives, and linking children to society and contribute to the implementation of development programs and self-reliance, and the protection of children.
With our best regards sincerely,
Refat Hassan
President, YGUSSWP