News and activities
PALESTINIAN NEWS
Commission prepare a law career social and psychological specialists Palestine
by Raed Amira, MH&D, Trainer
Human Rights Representative, IFSW-AP
Member, Arab Federation of Social Workers
The Palestinian Union of Social Workers and Psychologists held a meeting of the committee preparing justifiable to regulate the profession of social and psychological work in Palestine, which was based on the decision of the Secretariat at its first meeting and the judge to form a committee and work directly in the preparation of the rationale for the law in accordance with legal and trade union and professional basis, where the committee formed by the Palestinian law a group of social workers and psychologists in the homeland of the following names:
Dr. Ayad Othman and Dr. Imad Shtayyeh and Dr. Fathi Fulayfel, Raed Amira, Nasser Matar, and Faiz Al Fasfos , Asim Khamis and Bassam Marshood.
It should be noted that the Commission in its meeting has taken the decision to form specialized committees in order to institutionalize professional work presented credentials to the Bar Council and the General Secretariat prior to submission to official bodies.
Together to build a trade union and professional work in Palestine
—
COMING TOGETHER FOR CHILD PROTECTION IN INDIA
International Conference and Social Work Professionals' Congress on 'Social Work Intervention against Drug Abuse among Children'
Date: November 7-8,  2016
Venue: BCM College, Kottayam, Kerala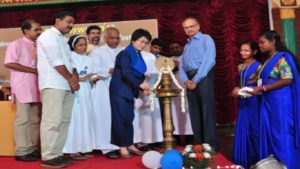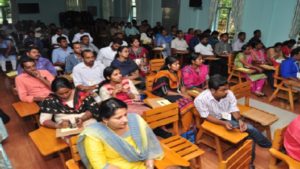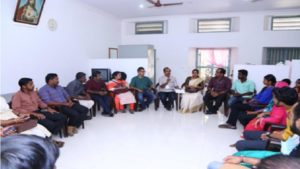 —
VIDEO: 25TH ANNIVERSARY CELEBRATIONS IN FAR EAST RUSSIA
Organized by the Union of Social Workers and Social Pedagogues (USWSP) on the occasion of the 25th year anniversary of the profession in the country (October 6th & 7th, Vladivostok)
—
CHILD PROTECTION RAPID ASSESSMENT REPORT FROM YEMEN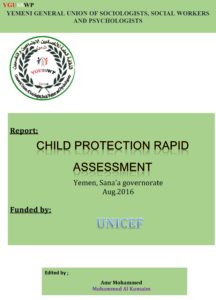 —
NATIONAL SOCIAL WORK DAY 2016 IN AOTEAROA NEW ZEALAND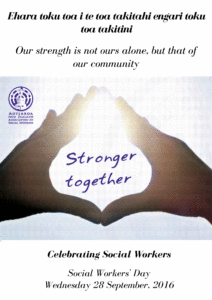 Tena koutou, tena koutou, tena koutou, nga mihi mahana ki a koutou katoa. Warm greetings to you all from Aotearoa New Zealand!
Wednesday 28 September 2016 marks the 12th year that Aotearoa New Zealand has celebrated a National Social Work Day. Across the country social workers will meet in their branches, roopu and workplaces to join together in celebration of the unique and special ways social workers contribute to making a positive difference with the individuals, their families and the communities they work with. The range of activities being undertaken this year, includes a week-long series of webinar professional development activities hosted by the professional body ANZASW.
At this time we also greet our colleagues across the region and around the world as we join together in honour of everything that is similar as well as all the diversity that being a social worker means globally.
Together we celebrate the great profession of social work!
Regards, Rose Henderson
President, Interim Governance Board, ANZASW and Vice President IFSW Asia Pacific
—
GLOBAL AGENDA PROGRESS REPORT FROM THE REGION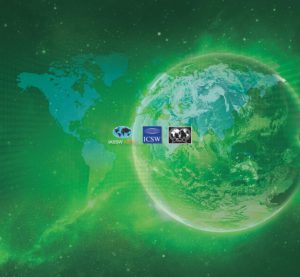 Promoting the Dignity and Worth of People
Global Agenda – 2014 – 2016: Asia-Pacific Region
The attached files include the Asia Pacific chapter in the Global publication and the supporting documents from the workshop held at the Joint Asia Pacific Regional Conference held in Thailand in October 2015. The summary chapter was also informed by the pre-conference workshop on Child Labour and Children of Migrant workers as well as summary documents received separately from Malaysia, India and New Zealand. We are pleased now to make these documents available and trust that you will find them of interest.
Special thanks to Dr Bala Nikku for his assistance in this work, and to all the members who contributed to this rich and diverse resource.
Dr Mariko Kimura, Asia Pacific Regional President
Rose Henderson, Asia Pacific Regional Vice-President
July 2016
Appendix II – Narrative Reports
—
IFSW-AP LOGO CONTEST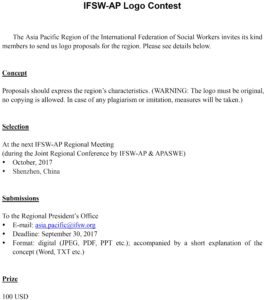 Submissions to: asia.pacific@ifsw.org
Deadline: September 30, 2017
Announcement: at APC24 in Shenzen, China (October 24-27, 2017)
—
REGIONAL MEETING HELD AT SWSD2016
Date & time: June 28th 2016, 16:00-18:00
Venue: COEX Hall E7 (3F), Seoul, Korea
IFSW-AP Regional Meeting Agenda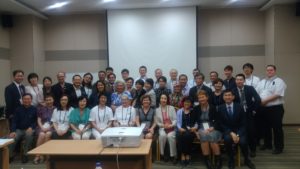 —
REGIONAL president's World Social work day 2016 visit to China  (March 13-17)
Report
by the China Association of Social Workers
—
WORLD SOCIAL WORK DAY 2016 IN IRAN
Report
by the Iran Association of Social Workers
—
WORLD SOCIAL WORK DAY 2016 MESSAGE FROM PALESTINE
—
WORLD SOCIAL WORK DAY 2016 IN INDONESIA
Including a speech by HE Mrs. Khofifah Indar Parawansa, the Minister of Social Affairs of the Republic of Indonesia.
Report
by the Indonesian Association of Social Workers
—
WORLD SOCIAL WORK DAY 2016 IN BANGLADESH
Bangladeshi colleagues observed World Social Work Day 2016 very successfully. Social workers engaged in a rally and a seminar on this year's theme. People for different organizations attended and joined. There was media coverage both in print and electronic nationwide.
—
WORLD SOCIAL WORK DAY 2016  IN MALAYSIA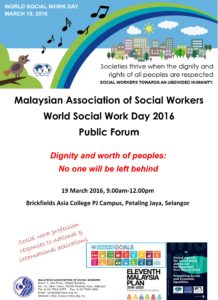 —
REGIONAL PRESIDENT'S MESSAGE FOR WORLD SOCIAL WORK DAY 2016
2016 World Social Work Day Message by Mariko Kimura
—
Annual Report by the IFSW-AP President and Member-at-Large (2015)
—
A LETTER ON THE CRISIS IN YEMEN
by the Yemeni General Union Sociologists, Social Workers and Psychologists (YGUSSWP)
Dear Dr. Mariko Kimura, IFAP President,
As you know Yemen currently has the greatest level of humanitarian needs in the world after the conflict beginning on 26 March 2015 until now which lead over 20 million people 80% of the population in desperate need of humanitarian assistance, Yemenis are struggling to survive as fuel, food and medical supplies are critically low due to the closure of land, sea and air routes. Over 12 million people are going hungry as wheat and other staples are in increasingly short supply. More than 15 million are without access to health care as hospitals shut down due to lack of medical supplies and power cuts.
The Yemeni General Union Sociologists, Social Workers and Psychologists (YGUSSWP) have been deeply affected from this conflict as most of our offices around the country have been damaged or affected due to heavily airstrike bombing, however we still working very hard to support our society and help them to get through this conflict by providing them with psychosocial support.
YGUSSWP established and managing safe friendly spaces for children in Sana'a province in some districts and this project funded by the UNICEF office in Sana'a. This project's aim is to provide psycho-social support to children and raise the community's and the children's awareness of protection issues, and to provide a friendly space and protected environment that enables children to participate in organizing activities, where they could play and adapt knowledge, learn and express themselves , and return back to their normal lives, and linking children to society and contribute to the implementation of development programs and self-reliance, and the protection of children.
With our best regards sincerely,
Refat Hassan
President, YGUSSWP