30 December 2017
Happy New Year and The Future of Social Work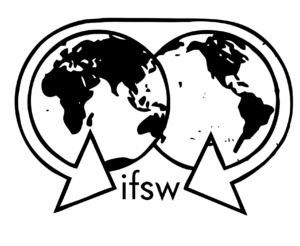 Message from Dr. Rory Truell, IFSW Secretary-General, 30th December 2017:
Happy New Year and greetings to all. 2017 has been a challenging year in many parts of the world, yet social workers have been making substantial contributions to people's lives, communities and wider societies.
Indeed, as the failures of some politicians have caused more polarised societies, displacement and inequality, we are simultaneously witnessing the development of a stronger, more unified and growing social work profession. A profession that is not just responding to the pain and hardship of people but also facilitating and shaping extraordinary social outcomes. The evidence of the social work contribution is clear and in the years ahead we can look forward to participating in a strong, visible and recognised profession in every country.
This year I have met social workers from many parts of the world who are working strategically with their governments and communities in addressing the multidimensional factors that have kept people trapped in poverty and marginalisation. They are transforming services to proactively support sustainable community self-led development, recognising people's strengths and respecting their dignity.
Certainly a memorable moment for me this year was during my visit to Zambia when I met social workers who are supporting people that have been displaced from their original families. The social workers assisted with the formation of new communities with charters stating that 'every child has the right to be loved' and democratic structures that ensure that everyone has their say and resources are distributed equally. These self-led communities have subsequently developed communal businesses, schools and health facilities. This year I also met social workers in Costa Rica who successfully forged legislation where government departments work together to support the real aspirations of people in poverty to utilise and build on their strengths and lead their own way to a secure future. Within the first year of the introduction of this legislation, there was a six percent reduction of the official Costa Rican poverty rates. Such extraordinary examples can be found in many countries where social workers have worked together strategically advocating for the rights and inclusion of all peoples.
There is nothing more rewarding for a social worker than seeing the people that initially needed their support moving forward confidently as community leaders running programmes to end domestic violence, drug prevention and building pathways to work and education. It is the social worker's rich skills that make the profession essential to all societies and development agendas.
The growing recognition of the 'social work-approach' will see the continued expansion of the profession. This was acknowledged by Ban Ki-moon, the last UN Secretary-General when he said 'We cannot achieve the Sustainable Development Goals without social workers'. He was right to say this. Not only because social workers will be a necessary part of the workforce delivering services, but also because social workers are needed to shape those services so that they lead to sustainable social outcomes in every country.
Along with the immense challenges in the world the social work profession is able to assist with real answers. In 2018 IFSW will be 90 years old and will continue to be our professional home. A place where we can share, learn and collaborate to further strengthen our contributions. As we move to this anniversary, IFSW wishes you all the best for the New Year. Wherever social work is practised in accordance with its principles people are happier, more confident and secure. When social work flourishes the day sky is bluer and at night the stars shine more brightly.
Best wishes and love for 2018,
Rory