World Social Work Day 2017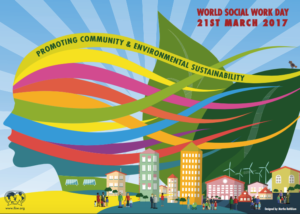 World Social Work Day 2017  (WSWD) is on the 21st of March. The theme 'Promoting Community and Environmental Sustainability' relates to the third pillar of the Global Agenda for Social Work and Social Development.
Interested in the history of World Social Work Day? Read more about it here!
All social work partners and members are welcome to co-brand the WSWD poster by adding their logo alongside the IFSW logo.
Submit Poster
Poster Translations
Video Messages
Translating the poster in different languages
We also invite member organisations to translate the poster into their own languages. Last years poster was translated into 45 languages highlighting global professional unity and agreement to stand together and act on the theme.
We hope that most organisations will be able to edit the poster for translation themselves, but if this is not possible, please copy the text below in bold, write your translation underneath, and email it to: pascal.rudin@ifsw.org
World Social Work Day 21st March 2017
Promoting Community and Environmental Sustainability
Thank you to all – it is a significant professional step forward that world-wide social workers promote Community and Environmental Sustainability!IFSW will post your translated poster on our website so that it can be shared across the world. (Please note that the IFSW relevant member organisation must approve the translation which may take a few days).
Download the WSWD poster in English
Download poster in your language:
More translations will be add shortly.
Video messages will be posted shortly.
Events on World Social Work Day 2017
IFSW is organising events on World Social Work Day as part of its representation work at the United Nation offices in Geneva and New York. More information about our work at the United Nations can be found on our Work at the United Nations Hub.
Please find below more information on these events, including on how to register: