Upcoming events & projects
MASW/IFSW-AP DISASTER WORKSHOP IN MALAYSIA
(Co-sponsored by the Japanese Center for Social Welfare Promotion and National Examination via the Japanese Coordinating Body for IFSW Membership)
Date: March 6-7, 2017
Venue: Malaysian Council of Welfare and Social Development (MAKPEM), Kuala Lumpur, Malaysia
Theme: Capacity Building – Social Workers for Disaster Response
Brochure: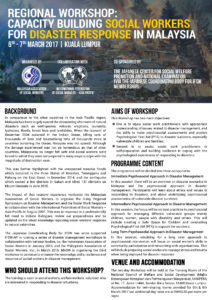 Registration form:
Registration Form_Regional Workshop.March2017
—
NEXT IFSW-AP/APASWE REGIONAL CONFERENCE (APC24)
Date: October 24-29, 2017 (tentative, see below)
Venue: COLI Hotel, Shenzhen, China
Theme: Challenges and Responsibility – Innovative Social Work and Sustainable Development
Invitation by the IFSW-AP Regional President
IMPORTANT: Related message from the Regional President and Vice-President
Dear Colleagues,
IFSW Asia Pacific is looking forward to a great Regional Conference in China later this year. We trust as you make plans for the coming year, that these plans will include joining your social work colleagues from across the region at this event. Although the dates are tentatively set for late October please be aware these may need to be moved a little later due to circumstances beyond all of our control. We are working to confirm the dates before the end of February in order for you to have plenty of time to plan your attendance at this event. We will post the confirmed dates by the end of February or sooner if possible.
We look forward to your joining us in China to make this a great regional conference.
Mariko Kimura, IFAP Regional President
Rose Henderson, IFAP Regional Vice President